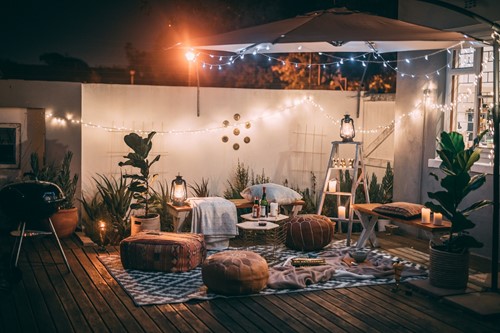 Using celebrity homes as a source of design inspiration can require some creative thinking. After all, it's almost impossible to replicate exactly what some stars have in their homes. Luckily, there are ways to take ideas from extravagant star abodes and make them work in your own home on a smaller scale. Here are some of the hottest trends from celebrity homes you can try yourself:
Celebrate Your Personal Style
Everyone has their own idea of what makes home truly their own. Some celebrities have taken this concept to a whole new level and created iconic interiors completely unafraid to emphasize what they love most. One easy way to do this is with a favorite color. If you have a specific color you love, don't be afraid to use it in your decor. You can start small with accent pieces like throw pillows, rugs and wall art or go completely monochrome and match your furniture, curtains and more. As long as you don't allow the features and furniture of a room to completely disappear in a sea of a single color you can make a truly personal space you're excited to be in.
Love the Outdoors
Celebrity homes can provide incredible inspiration when it comes to outdoor living spaces. You can achieve some of the same luxury without the Hollywood price tag, too. Try adding curtains or retractable shades to a covered patio for privacy and ambiance. Cozy cushions on outdoor furniture and an outdoor rug will boost the comfort and style of the whole space and make it somewhere you want to spend time. If it's safe to do so, setting up a small fire pit surrounded by inviting chairs can create a luxurious but accessible spot to enjoy the fresh air. For smaller spaces you can achieve a glamorous look with soft lighting and a plush throw blanket to ward off a chill.
If you don't have any outdoor space to decorate, don't worry—you can still use this trend to your advantage. Emphasizing your windows to bring in the light and the view from outside can do wonders for an interior space. Use hanging plants as decor to bring nature inside and create a boho-chic vibe. Use botanical motifs and soothing, natural colors to let the sun shine in.
Layer & Combine for Comfort
Another hot style trend currently found in celebrity homes is layering textures and materials. Think overlapping rugs or table cloths. If you stick to the same color palette while mixing patterns and textures and still keep the room feeling upscale but not stuffy. Use wall art of different sizes and an eclectic mix of lighting and you'll achieve an atmosphere that's relaxed but refined all at once.
If you find yourself feeling envious of celebrities for their home design, don't forget that you can do a lot of the same things for less. What's even better is that you'll be doing it for yourself and create a space you can truly be proud of.